Our Story
The beginning at Vanstaff from the left
Aust Ch Geordypride Keel Man CD (Murphy)
Aust Ch Rebelstaff Bonny Parker (Bonny)
Aust Ch Vanstaff Iron Maiden (Mindy)
Aust Ch Vanstaff Sand Piper (Jacky)
Vanstaff Solid Man (70 points retired due to injury)
Our Champions & 7 Grand Champions & Best or Runner Up Best in Show winners owned by us & bred by us
Aust Ch Geordypride Keel Man CD
Aust Ch Rebelstaff Bonny Parker
Litter 1 - Aust Champion Vanstaff Iron Maiden

Class In Show winner
Litter 1 - Aust Champion Vanstaff Sand Piper

Class In Show winner

owned & campaigned by Angela & D Poelstra (Awstruck)
Litter 2 - Aust GRAND Champion Vanstaff Black Sabbath

Class In Show winner

(sire of 2 Grand Ch & 1 Champion also In show winning in

France International Champion Hunta, Majura She's Magic)

(

IN SHOW WINNER)

owned and loved by our very good friend Amelie
Litter 3 - Aust GRAND Ch Vanstaff Black Label (

BEST IN SHOW & RUNNER UP BEST IN SHOW

winner)
Litter 3 - Aust Ch Vanstaff Iron Lass – Owned by Roy Hancock campaigned & titled by J Hancock
Litter 4 - Aust GRAND Champion Vanstaff Black Jack CD CDX (

multi

BEST IN SHOW & RUNNER UP BEST IN SHOW) sire to

BEST IN SHOW

Ch Trueblend No Regrets Owned & bred by Trublend
Sired by 2nd Litter

- Aust GRAND Champion Majura Black Magic (

Multiple

RUNNER UP BEST IN SHOW Winner

)
Sired by 2nd Litter -

Aust GRAND Champion Tussler Brindle Ben

(In Show Winner)

(Son of Grand Ch Vanstaff Black Sabbath)
Litter 5 - Aust Ch Vanstaff Liquid Amber – owned and campaigned by J&J Hockey
Litter 5 - Aust Ch Vanstaff Fire N'Ice
RUNNER UP BEST IN SHOW
Specialty & class In Show winner
Litter 6 – Aust Ch Vanstaff Black Ice (

Class

In Show Winner

)
Litter 7 – Aust Ch Vanstaff Ulster Magic Owned & campaigned by Meyerkort Family, Perth

(

Produced 2 Champions

)
Litter 8 - Aust GRAND Ch Vanstaff Simply Red

BEST IN SHOW & RUNNER UP BEST IN SHOW SPECIALTY & all breeds


Litter 8 - Aust Ch Vanstaff Tainted Love owned loved & campaigned by Natalie Moore
Litter 9 - Aust Ch Vanstaff Acca Dacca
Class In Show winner
Litter 10 - Aust Ch Vanstaff Ice T
(BEST IN SHOW WINNER)
Litter 10 - Aust Ch Vanstaff Auzie Pride
(RUNNER UP BEST IN SHOW)
Litter 11 - Aust Ch Vanstaff Don't Miss Me - Owned by Peter Keane
Litter 12 - Aust Ch Vanstaff Black Magic

(Class In Show winner)
Aust Ch Vanstaff Moonshine Gal owned by Gayle & Lance Stephenson (Satori Knnels)
Aust Ch Vanstaff Guinness Drought owned by Sylvia Onfire Staffords, Brisbane QLD
Aust Ch Vanstaff Black Brew owned & campaigned by Kayla Osborne in Sydney NSW
Aust Ch Vanstaff Hard Yakkaa co-owned Loved & Campaigned by Kel Hopkins in Sydney TITLELED AT 10 months and 1 day of age !!!!!
Aust Supreme Ch Vanstaff What's Brewing owned by Jo Rasche & Team Anvilhart SBT's in Adelaide SA
Aust Ch Vanstaff Moves Like Jagger
Aust Ch Vanstaff I Am Cool
Aust Ch Vanstaff Crazy In Love owned by Jo Rasche & Team Anvilhart SBT's in Adelaide SA
Aust Ch Vanstaff Powerbilt
Aust Ch Vanstaff Champaignes On Ice owned by Rachel Fidler & team Dkadance SBT's in Darwin NT
Aust Ch Vanstaff Tomasina
Aust Ch Vanstaff Penny Black
Aust Ch Stafforce Special Edition bred by our freind Kim Sammut Gr Ch Tussler Brindle Ben's grandaughter
Aust Ch Angustaff Fire Storm -

( Class In Show winner )

owned & Titled by us
Aust Ch Attomoy Slippin A Mickey owned & Titled by us
Aust Supreme Ch Westrova Stoic Home Brew Multi BEST IN SHOW & RUNNER UP BEST IN SHOW
Aust Ch Powerbilt Incognito - Owned by us Bred
by our friends Tom & Wendy Craig (Sire Supreme Ch Westrova Stoic Home Brew)
Vanstaff SuziQ CD champion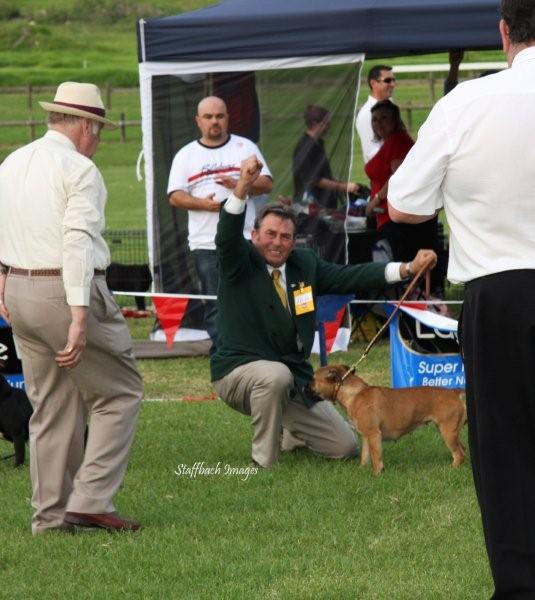 Cary & I have owned dogs for over 26 years
In Staffors since 1991 we have successfully bred multiple Best in Show winning Grand Champions, Champions and Obedience Title holders. We are also both qualified Obedience Instructors (NSW) and have been involved in successfully running & promoting a Dog Obedience Club.

Since then we have come a long way. However, We are human and have had 1 accidental mating resulting in a very beautiful little bitch by the name of Jess Vanstaff Black Ice, We have bred Champions, Grand Champions Best in Show, Runner Up Best In Show & In show winning Staffords. Not only Champions but Staffords with sound temperaments that will also make fantastic obedience dogs.

Our breeding plan is very select,

breeding for quality never for quantity! Our aim is to breed to the standard showing correct type & excellent temperament producing happy, healthy dogs.



In 2006 & 2007 from our breeding winning in France, Germany & Austria. 4CC's holder & In Show winner Majura She's Magic (Imp Aust)

Our Staffords are handled by children of all ages at shows in Junior handlers competitions showing they have sound temperaments are highly intelligent animals who are very affectionate especially with children.

We have no hesitation in recommending the Stafford as an ideal family pet.
Our Kennel is not a business but a love affair with the stafford we are totally owned by our kids and consider the showing & breeding to be purely a hobby, a hobby we take very seriously. We strive to breed Type, Temperament and soundness we breed for our selves only pets for loving homes are available.
We receive many enquiries about BLUE STAFFORDS. We do not, have not and never will BREED FOR COLOUR. No ethical breeder should. In the standard Blue is allowed as a color, true; but the nose leather MUST be black, the coat color should be rich, the eye should be as dark as possible and the nails should be dark in reflection of the coat. This is genetically impossible with the blue gene as it is a dilute of the black/brindle gene.

We are amazed by the ignorance and ridiculous claims such as: "most importantly we never line breed". This comment serves only to showcase their lack of knowledge and understanding. Others claim to have top blood lines from around the world, yet their pedigrees are full of obscure dogs. The fact that blue litters now take up around 90% of puppy listings is scary and you only have to look and compare to see the quality that isn't there. The fact remains that a blue Stafford does not properly conform to the breed standard. All of this false information sounds impressive to the new Stafford enthusiast and can often result in people having a distorted view of a good "typey" Stafford - we have all seen Staffords that look more like cross breed.... It is an unfortunate truth that many of these blue breeders will breed purely for money and NOT for the betterment of the breed. They put dog to bitch and only think about the color of the puppies to be thrown and NOT whether they are health tested, true to the breed standard, true to type and of excellent temperament. They think of now and NOT of 3-4 generations down the track. Worst of all, they incessantly breed recessive gene to recessive gene NOT CARING OF WHAT GENETIC FAULTS SUCH A MATING WILL PRODUCE OR WHAT THEY ARE DOING TO OUR BREED IN THE LONGTERM.
NO BREEDER CAN CALL themselves ethical by selling entire litter of pups on full register LIMIT REGISTRATION is to SAFEGUARD our GRILS and THE BREED from being EXPLOITED
As The Staffordshire Bull Terrier breeder
WE shall NEVER, under any circumstances, condone, support or ignore the practice of pitting a dog against another dog or any other animals in a fight for pleasure or profit. Information regarding this type of abuse to animals shall be reported to the proper humane authorities.

We will not export to specific countries outside Australia where dog fighting has not been made an illegal practice and refuse ALL export to these countries.
Our litters are raised in a responsible manner. We strongly believe & practice early socializing of our puppies to start them off as happy well adjusted Staffords that will pass any temperament test. We also encourage all new owners of our puppies to do the same.

Although we don't have children our selves all our Staffords are handled by children at show in Child handlers competitions or I should say our Staffords handle the kids well

We promote our Staffords and try to teach other owners by example that, we & our dogs are responsible members of the community by keeping our dogs under control at all times. And by educating the general public that this breed is indeed "The friendly Staffordshire Bull Terrier the Nanny Dog & much loved Family Pet"

Obedience, Agility & Fly Ball is our LOVE which at present we are unfortunately unable to pursue due to health reasons.

We believe dog ownership & obedience are a must in today's society as there is no substitute to owning a well behaved dog. We also strongly support Stafford Rescue please do not hesitate to contact us if you wish to help.
Jess and her Story
Jess is a result of an accidental mating between Allie, Vanstaff Fire N'Ice had a slip mating with Jack after finishing her 1st season on day 21, even though she had stopped bleeding a few days prior and had started to reduce in swelling we still kept her separated as we do with all our girls. That day Allie had slipped passed me while I was unloading groceries from the car… she was out of site only for a split second…they were together for only a few minutes. In consultation with our Vets we agreed that the chance of her being in pup were indeed very slim so more drastic measures were not taken but we still took precautions X-rays & ultrasounds to find out if there was a pregnancy which would have been terminated… Our Vets ware in shock as much as we ware when Jess was born, because all their tests never revealed Allie's pregnancy. Otherwise the pregnancy would have been terminated. Nor did Allie ever show any signs physically that she was carrying a pup or pups we never knew she was pregnant till that day when Cary got home and found Allie & a little black pup minutes old. Most of January our friends Stanley's were staying with us, Allie was in 7th heaven having their teenage girls to pay with, she was and still is very athletic always being the fastest out of 6 to catch the ball even the day Jess was born! We could have kept quite about Jess or not registered her but we decided to be honest. This mating took place while Allie was in my care and I take full blame for what has happened. Still no excuse for breeding one so young and I make none only the facts.
Jess is registered as Vanstaff Black Ice our 6th litter with our controlling body the RNSWCC council who approved her registration without penalty.
We will keep this very pretty little back bitch that defied all the odds to be with us I am sure there are a few of you out there that will take this as an opportunity & the pleasure to discredit us.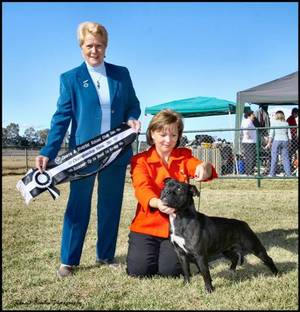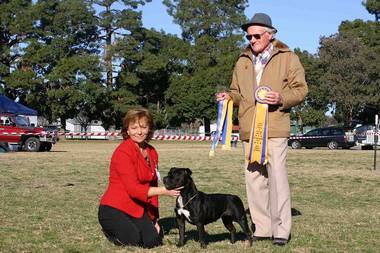 Jess baby
Jess
Adriana Van Kleeff & Jessie at 7 months of age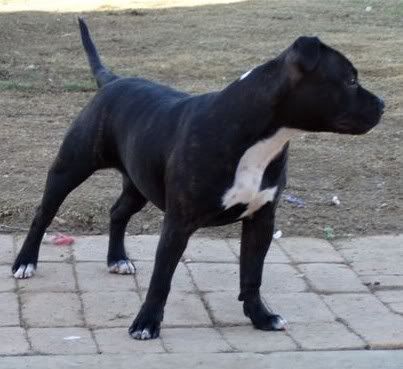 Jess gains her Title by winning Best of Breed Jess & me Jess won Best Junior In Show