Puppy Application Form
All genuine puppy enquiries are welcome you may fill in the form below or contact us by email to [email protected] or phone on 042 8899213 Please contact us after 7pm in the evenings
IMPORTANT
We as The Staffordshire Bull Terrier breeder shall NEVER, under any circumstances, condone, support or ignore the practice of pitting a dog against another dog or any other animals in a fight for pleasure or profit. Information regarding this type of abuse to animals shall be reported to the proper humane authorities. Please note we will not export to specific countries outside Australia where dog fighting has not been made an illegal practice and refuse ALL export to these countries.
Our Kennel is not a business but a love affair with the stafford we are totally owned by our kids and consider the showing & breeding to be purely a hobby, a hobby we take very seriously. We strive to breed Type, Temperament and soundness we breed for our selves only pets for loving homes are available.
We receive many enquiries about BLUE STAFFORDS. We do not, have not and never will BREED FOR COLOUR. No ethical breeder should. In the standard Blue is allowed as a color, true; but the nose leather MUST be black, the coat color should be rich, the eye should be as dark as possible and the nails should be dark in reflection of the coat. This is genetically impossible with the blue gene as it is a dilute of the black/brindle gene.

We are amazed by the ignorance and ridiculous claims such as: "most importantly we never line breed". This comment serves only to showcase their lack of knowledge and understanding. Others claim to have top blood lines from around the world, yet their pedigrees are full of obscure dogs. The fact that blue litters now take up around 90% of puppy listings is scary and you only have to look and compare to see the quality that isn't there.

The fact remains that a blue Stafford does not properly conform to the breed standard. All of this false information sounds impressive to the new Stafford enthusiast and can often result in people having a distorted view of a good "typey" Stafford - we have all seen Staffords that look more like cross breed....
It is an unfortunate truth that many of these blue breeders will breed purely for money and NOT for the betterment of the breed. They put dog to bitch and only think about the color of the puppies to be thrown and NOT whether they are health tested, true to the breed standard, true to type and of excellent temperament. They think of now and NOT of 3-4 generations down the track. Worst of all, they incessantly breed recessive gene to recessive gene NOT CARING OF WHAT GENETIC FAULTS SUCH A MATING WILL PRODUCE OR WHAT THEY ARE DOING TO OUR BREED IN THE LONGTERM.
NO BREEDER CAN CALL themselves ethical by selling entire litter of pups on full register LIMIT REGISTRATION is to SAFEGUARD our GRILS and THE BREED from being EXPLOITED

Please complete the form below and include:

Your Age?
Do you have any other pets? (cats, dogs, etc)
Why would you like a Stafford?
What do you want to do with the puppy? As a family pet, obedience, breeding or Showing?
We ask that pets be desexed Are you willing to have your dog neutered?
What sex would you prefer? Male or Female?
If for some reason you can not keep the pup we ask that the pup be returned to us before being re-homed.
Thank you for your interest, please be patient & we will get back to you by email otherwise if you telephone us please ring in evenings - NO TEXT Msg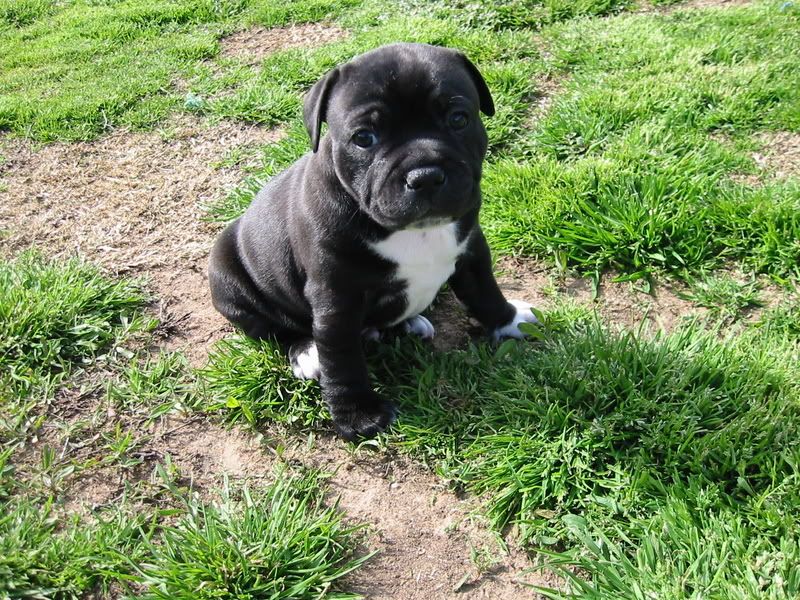 Photo: Oscar, Vanstaff Oscar Luigi much loved & owned by Sue Chong & family
**Please note, good homes will be hekp on our books for future litters**
*!*!* We have have some very exciting plans for 2012 *!*!*
Contact us at [email protected]